BIS-Newsletter No. 7 August 2020
Logistics all-rounder with a focus on automotive 19.07.2020, Autor: BIS, H.-J. Werth

Hans-Jürgen Schlausch (left) and Karim Gebara are the driving force behind the group of companies under Würfel Holding with administrative headquarters in Bremerhaven.
Long-established Würfel Logistik has been operating in Bremerhaven since 1946. With its broad diversification, the company is well positioned to serve a wide range of different sectors. As a number of customers come from the automotive industry, the impact of the Corona pandemic has also filtered through to Würfel. "Although we are affected when short-time work is introduced into the automotive plants, we have been able to score in other areas," explain Hans-Jürgen Schlausch and Karim Gebara, Würfel Holding GmbH's two managing directors. Customers from the hygiene paper industry, food logistics and, in Gebara's view, the exciting niche business for the chemical industry are compensating for any shortfall during the pandemic.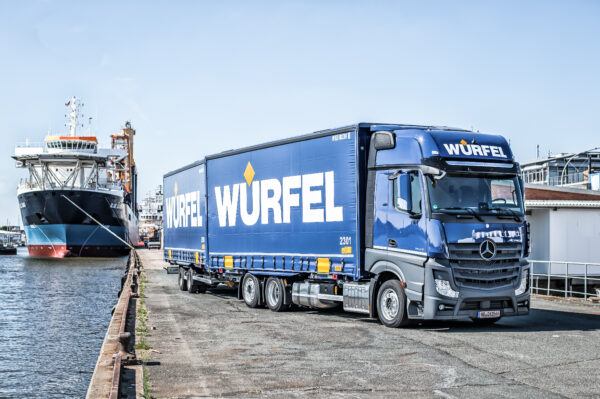 State-of-the-art vehicles, Mercedes-Actros chassis for swap bodies, offer payloads of up to 25 tons and volumes of up to 114 sq m per truck.
The story began in Hoebelstraße in Bremerhaven's Fischereihafen (fishing harbour) where Heinz Würfel founded Würfel Spedition GmbH back in the day with the aim of transporting fresh fish from the fish auction halls in Bremerhaven to Cuxhaven. Twenty-eight years down the line, in 1974, his son Gert followed in his footsteps as the second generation. Known as an innovator, he focused more strongly on volume traffic and invested in technical upgrades for jumbo swap bodies. This area of business proved to be well worth the trouble in the long term as providers in Germany are few and far between, even today.
From the 1990s onwards, Gert Würfel gradually built up services to cover all aspects of the logistics business. The company grew very swiftly in this phase, boosted by its first strategic corporate acquisitions. In 2010, Hans-Jürgen Schlausch and Karim Gebara joined the executive team as principal shareholders. "The corporate group that was increasingly operating on an international scale was experiencing some difficulties. However, subsequent due diligence, with a detailed company valuation, was so promising that we took over."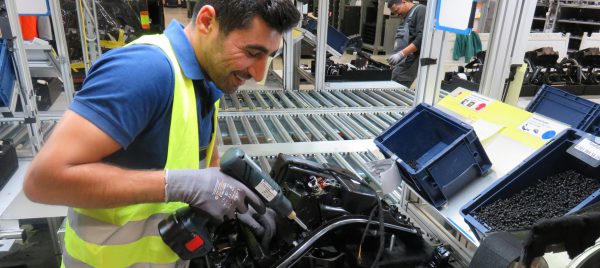 Over almost 75 years of the its history, Würfel has evolved from a local fish transporter into a logistics provider with a wide range of services on offer and around 1,700 employees.
Concentration on national activities
Before joining Würfel, the logistics managers Gebara and Schlausch had held management positions at Deutsche Bahn subsidiary Schenker AG and at ABX Logistics, one of the world's leading air and sea freight specialists where they got to know and appreciate one another.
With the entrepreneurial, fresh approach of the two logistics specialists at Würfel, the process of restructuring of the company, including refocusing core operations on national activities, was successful.
Logistics is a customer-driven business "We grow with the wishes of our customers," is how Hans-Jürgen Schlausch describes the business. The Würfel Group has consistently optimised its portfolio while enlarging it at the same time. Within a decade, workforce numbers rose by a good 40 percent, from 1,200 to currently around 1,700. A large part of this growth was generated through organic growth in the respective companies.
While the current situation necessitates short-time work, the corporate strategy nevertheless remains focused on targeted expansion. "Things are moving along", was Schlausch's comment on the development in Bremen's industrial estate where a small seven-digit amount is being invested in expanding a property of Würfel Automotive. "Würfel is extending the existing building of 5,500 sq m by another 2,000 sq m. We are looking at a sustainable future in this location and new growth over the next ten years."
"The virus is set to determine everyday life for some time to come, even though the workflows have meanwhile become established and function smoothly," Karim Gebara comments. He describes how, at present, work is performed in many small teams at the shipping company in Bremerhaven, with shifts organised so employees can avoid meeting, with contact at work generally streamlined as far as possible.
The administrative headquarters of the company with its large workforce is located, as before, at "Am Leuchtturm 10" in Bremerhaven. The location which draws the visitor's eye to possibly the best panorama view showcasing the urban backdrop of the maritime city, including tourist attractions in Bremerhaven's "Havenwelten", the Lloyd Marina, the dyke and the River Weser is also home to the holding's IT Centre.
Time to take in the scenery has meanwhile become a luxury for the two Würfel managers. With the team spread across Germany and taking care of employees and customers on a regular basis, Schlausch and Gebara are often travelling on Germany's motorways (and in Poland and Hungary), albeit with restrictions. Similar to many companies, business at Würfel is also conducted via video conference. Schlausch and Gebara agree that this means of communication is to be retained, at least in part, also in the post-Corona age.
Asked about new areas of business, Schlausch does not exclude the possibility of expanding the company's own IT know-how in the future in the context of cutting-edge transport management systems for external companies. The topic of Tesla and plans for opening a German branch in Berlin Brandenburg also make automotive experts prick up their ears, say Schlausch and Gebara with a grin.
DATA & FACTS
The Würfel Group provides extensive services at 18 locations aimed at optimising complex logistics chains. The portfolio ranges from procurement through to production and distribution and on to after sales. A total of eight subsidiaries deliver this portfolio under the umbrella of the holding company.
Name of company: Würfel Holding GmbH
Founding year: 1946
Size of the workforce: 1,700
Annual revenues: €149 million (2019)
Locations: Bremerhaven (head office), Bremen, Hamburg, Stelle, Oranienburg, Großbeeren, Diepholz, Damme, Wagenfeld, Stemwede, Espelkamp, Koblenz, Ginsheim-Gustavsburg, Paderborn, Anröchte, Dinslaken, Stettin, Budapest
Warehouse surface area: 258,000 sq m
Fleet: 370 trucks and more than 1,000 swap bodies for high volume transportation