Wurfel Polska focusing on its own vehicle fleet
Jumbo swap body transportation
Würfel Holding subsidiary then able to respond even faster to customer requests – DAF tractor unit – SDG bodies – swap bodies for loading and Gniotpol trailers
Wurfel Polska sp. z o.o. is investing in new vehicles for jumbo swap body transportation. Wurfel Polska chooses DAF tractor units with a BDF system from SDG Modultechnik GmbH. The trailers and swap bodies for loading come from Gniotpol Trailers sp. z o.o.
Founded in February 2020, Wurfel Polska is certified to DIN ISO 9001 and 14001 standards and an authorised specialist waste management company.
"Through our decision to build up our own vehicle fleet, in combination with well-trained driving teams, we want to respond even more quickly to customer requests and establish swap bodies in Poland's transport market," explains Karim Gebara, Managing Director of Wurfel Polska.
SDG and Würfel Holding have maintained a long-standing collaboration for more than ten years. All Würfel Spedition GmbH vehicles are equipped with SDG swap bodies. The Polish subsidiary is now perpetuating this tradition.
Based in Malnia to the south-east of Breslau, Polish vehicle manufacturing specialist Gniotpol Trailers ranks among the tried-and-tested suppliers of Würfel Spedition.
The jumbo swap bodies built for Wurfel Polska feature a transition ramp for loading. This enables both jumbo swap bodies of a vehicle to be loaded or unloaded at the same time while occupying a single gate on the ramp. Swap bodies equipped with transition ramps shorten waiting times at the ramp and save valuable ramp space in the depot. The driver parks his vehicle at the ramp, and loading or unloading can be carried out without uncoupling the trailer.
Since the company has almost 1,000 jumbo swap bodies it is able to offer customised swap body concepts. The swap bodies can be used by customers as "flexible" storage bins for production facilities and in supplying construction sites. Loading or unloading is possible without carrier vehicles, thereby minimising customers' own storage space.
The innovative jumbo swap bodies jointly developed by Würfel offer 19 pallet spaces in total with an interior height of 3.00m and width of 2.48 m. This portfolio is regularly maintained and updated through an ongoing investment programme.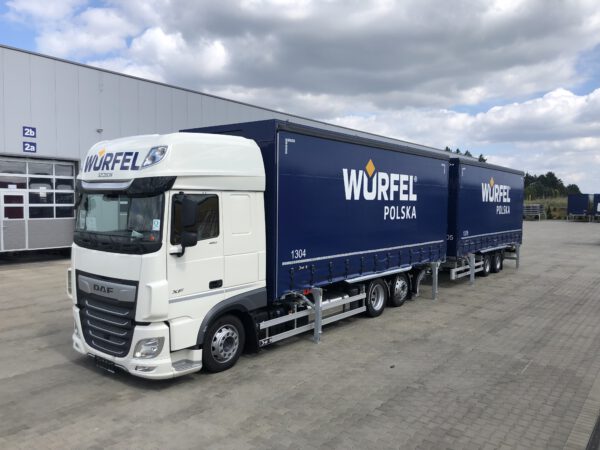 Wurfel Polska invests in its own vehicles for jumbo swap body transportation Source: Würfel.